14 December, 2018 Vietnam Travel Group
If you are planning to
visit Vietnam
this 2019, these places should be on top of your bucket list. Each month, there is a destination that according to Vietnam Travel Group, is the best place that you simply never should miss during your travel here.
1. January: Da Lat – Cherry blossom is popping out everywhere welcoming the spring
Da Lat is one off the best alternatives in Vietnam: the weather is spring-like instead of tropical hot, the town is dotted with elegant French-colonial villas rather than stark socialist architecture, and the surrounding farms cultivate strawberries, coffee and flowers in place of rice. Beside all that, Da Lat is known with many names: "The City of Flowers" and "The Little Paris"... In January, Da Lat has become familiar with the name "the city of cherry blossom". The exactly biological name of this flower is prunus cerasoides blossom. Each spring, these glowing pink flowers which are typical for the temperate highland cover every area of Da Lat, dyeing the city in pink. Seeing the photos taken below, would you believe if Vietnam Travel Group tell you that Da Lat is actually the city which the photo was taken and not Japan?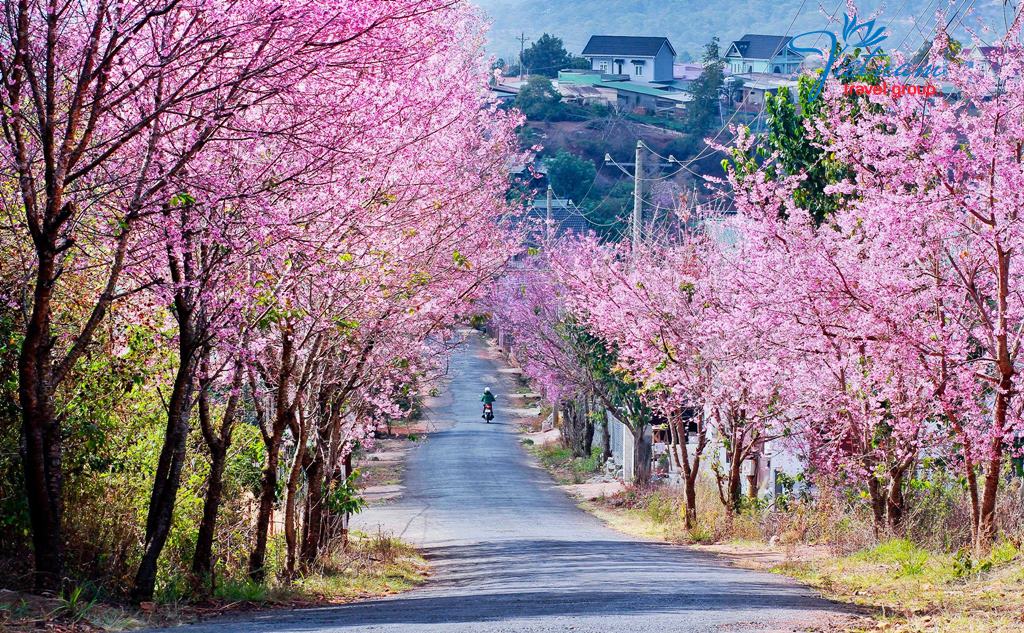 Da Lat in Pink with Cherry Blossom - Vietnam Travel Group
In late January to early February, it's time for Tet, traditional New Year of Vietnam, which is also the time for all kinds of flowers and for the local people to hold the flowers festivals with many interesting activities. Pinkish white prunus cerasoides blossoms are bringing about dreamlike scenes across the city which will be a favorable condition for the city to hold the prunus cerasoides blossom festival in late January.
2. February: Ho Chi Minh City – Lantern Festival (Tet Nguyen Tieu)
Vietnamese traditional New Year usually falls in late January or early February and spans for 3 most important days. Then comes Tet Nguyen Tieu – The First Full Moon of the New Year thought to be one of the most important festivals in Vietnam with the full Moon. Tet Nguyen Tieu in Vietnam currently depends much on Buddhism and lives apart from China's festivals. Therefore, on 15th of the first lunar month, Vietnamese people often go to the pagodas to pray for the best things for their loved ones. Meanwhile, others will eat vegetarian food in these days for the purposes of peace and luck. This is one of the most important Vietnamese festivals widely held nationwide, but Cho Lon in Sai Gon (Ho Chi Minh City) might be the most fascinating place during Tet Nguyen Tieu. This festival is celebrated hugely and marvelously, roads and streets are full of street food which symbolizes for "reunion" in the occasion. You might not want to miss such an experience!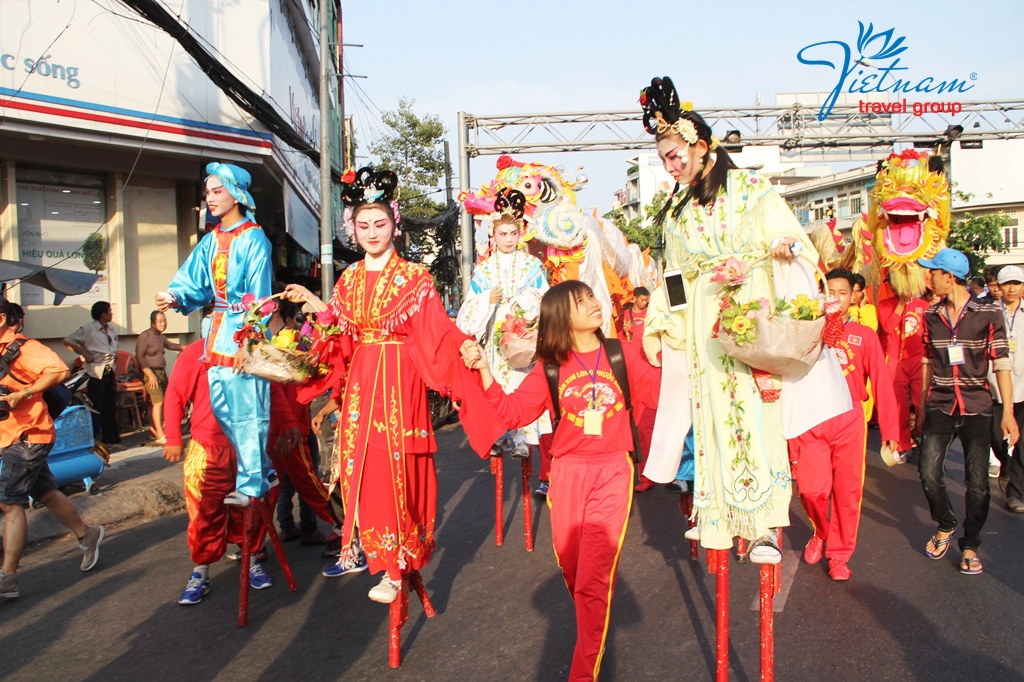 Lantern Festival held in Cho Lon - Vietnam Travel Group
3. March: Moc Chau – "Ban" flowers cover all the hills and ranges of mountains in white
This special type of flowers is popular and is typical for the North-West regions of Vietnam. Its exactly biological name is "bauhinia variegata". In March, it's time when the plum and peach flower seasons come to an end. The light rain of the spring makes "ban" flowers blossom, and Moc Chau is the most beautiful and mesmerizing land of the wonderful ones where you can find the most graceful "ban" fields.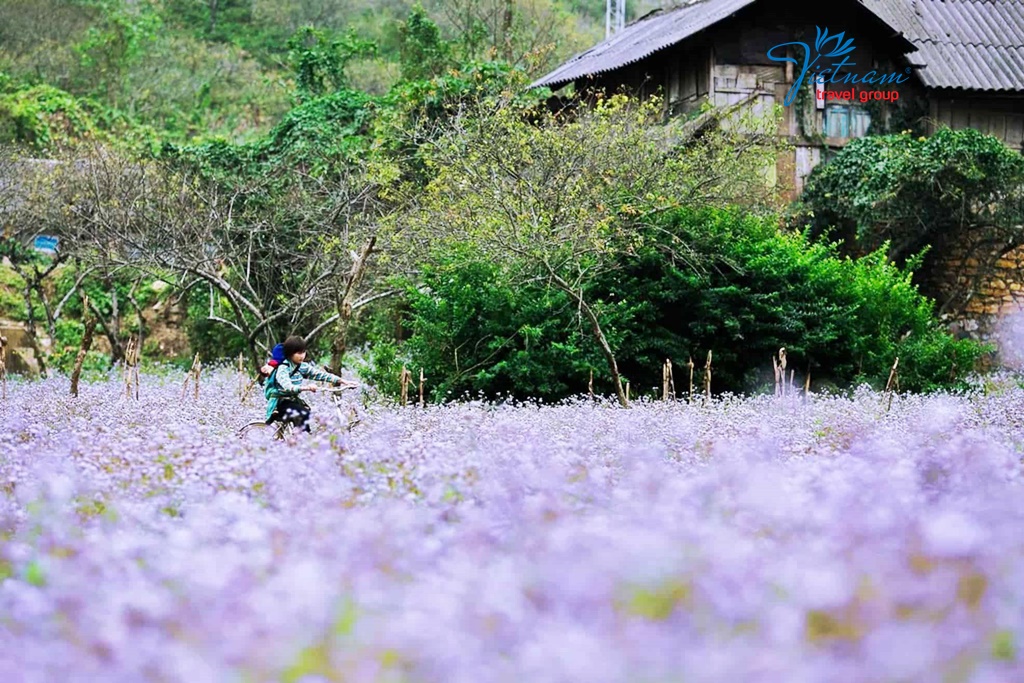 Child-biking-on-Ban-Flower-Mai-Chau-Vietnam-Travel-Group
Besides the hoa ban blossom, when coming to Moc Chau, you can join Het Cha Festival of the Thai people – an annual event hold on the 23rd – 26th March.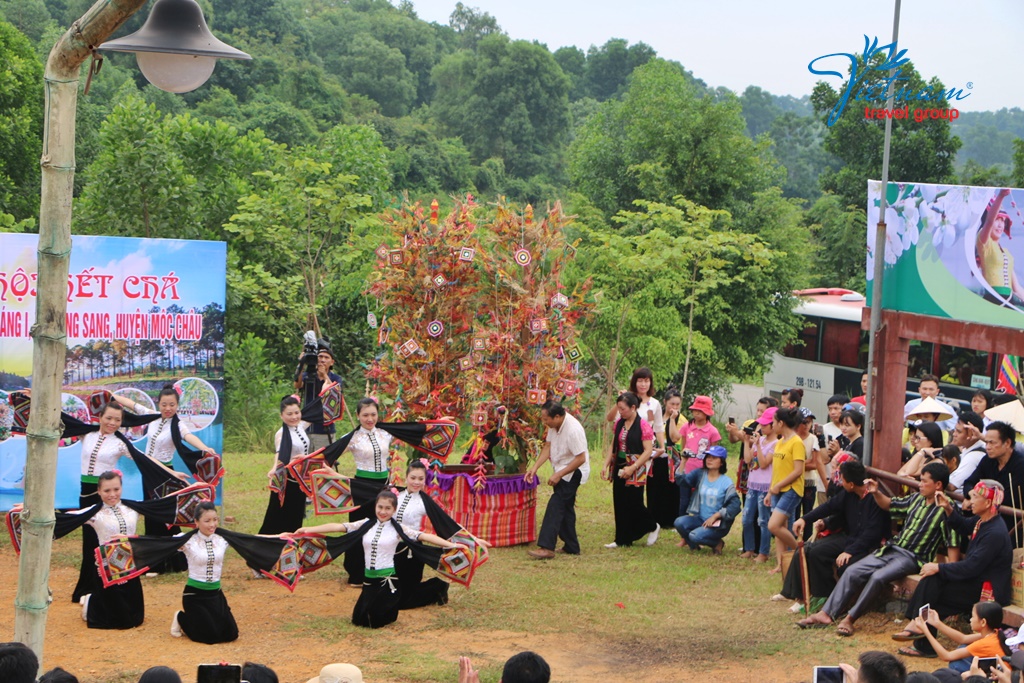 Local Thai girl dancing on Het Cha Festival in Moc Chau - Vietnam Travel Group
4. April: Da Nang & Hoi An – Fireworks Festival
Da Nang International Firework Festival (DIFF 2019) with the theme "Legends of Bridges" will take place from this April. It is one of the Asia's biggest fireworks festivals, and with its many activities, the DIFF will make Da Nang a vibrant city during the summer of 2019.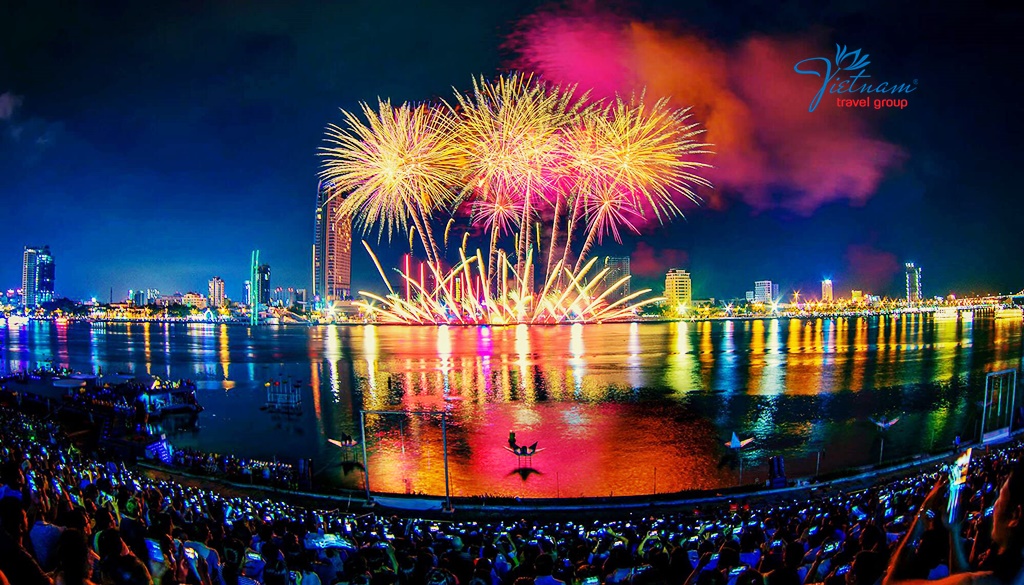 Firework show during Da Nang International Firework Festival - Vietnam Travel Group
Coming to Da Nang, you should also visit the Ba Na Hills to see the Golden Bridge with two giant stone hands:
Golden Bridge - Ba Na Hill - Da Nang - Vietnam Travel Group
Moreover, there is another place which is just 30 km away that you should visit since you are already in Da Nang City. Perhaps, "The Ancient Town Of Hoi An" will be familiar name to most travelers.
Hoi An Ancient Town - Vietnam Travel Group
5. May: Ninh Binh – Ripened rice season
Located at the edge of the Red River Delta, Trang An is a rare place where long-standing rice cultivation still maintains. Travel about only two hours by car from Hanoi, this is a must-visit place where the bright green paddies turn yellow gradually. Only planted in a fifth-month crop, rice plant here is ripened quickly especially in late May.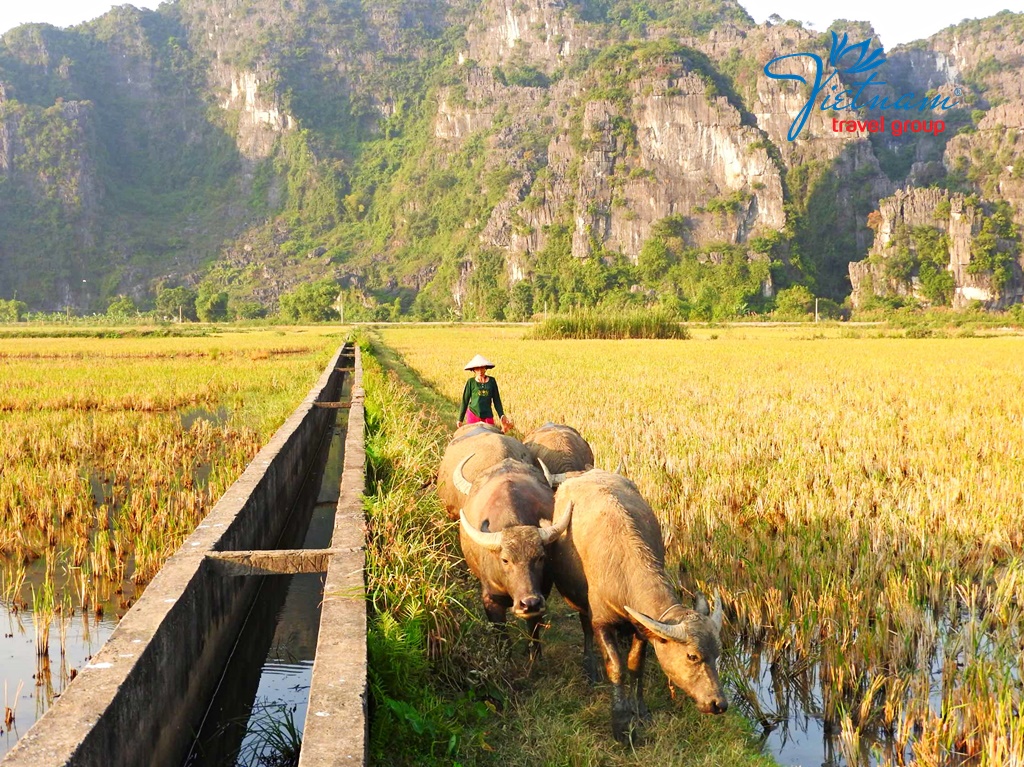 Farmer and Water Buffaloes in Ninh Binh paddy rice field - Vietnam Travel Group
Ninh Binh in May will be twinkling with golden paddies under the sunshine would be the most scenic experience you could have in Vietnam. Take an excursion on boat through the vast rice fields and enjoy the best experience it offers. This ancient capital of Vietnam embraces as well a lot of beautiful spots which attract millions of tourists every season of the year.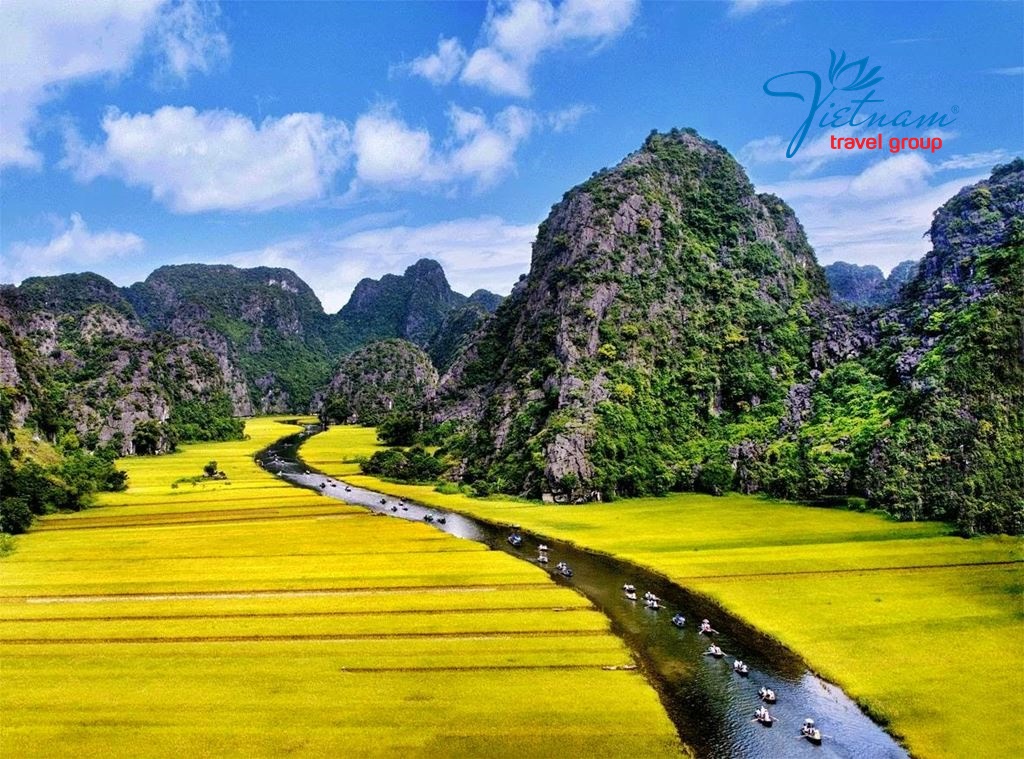 Cruising along vast rice field in Hoa Lu - Tam Coc - Vietnam Travel Group
6. June – Con Dao Island
Under the heat of summer, an island with endless white sandy beaches must be in the top choice. Con Dao, used to be called "Devil's Island of Indochina", owns a complicated beauty. Besides enjoying the beaches and the wildlife in the National park, you can visit as well Con Dao prison to experience more about Vietnamese history. Furthermore, fresh and delicious seafood is one special thing drawing the foreigners pristine and mysterious island. The most interesting thing is that visitors arriving on Con Dao Island in June have the opportunity to experience turtles laying eggs and baby turtles hatching as this is their nesting season. This can be considered as the highlight of the tour here.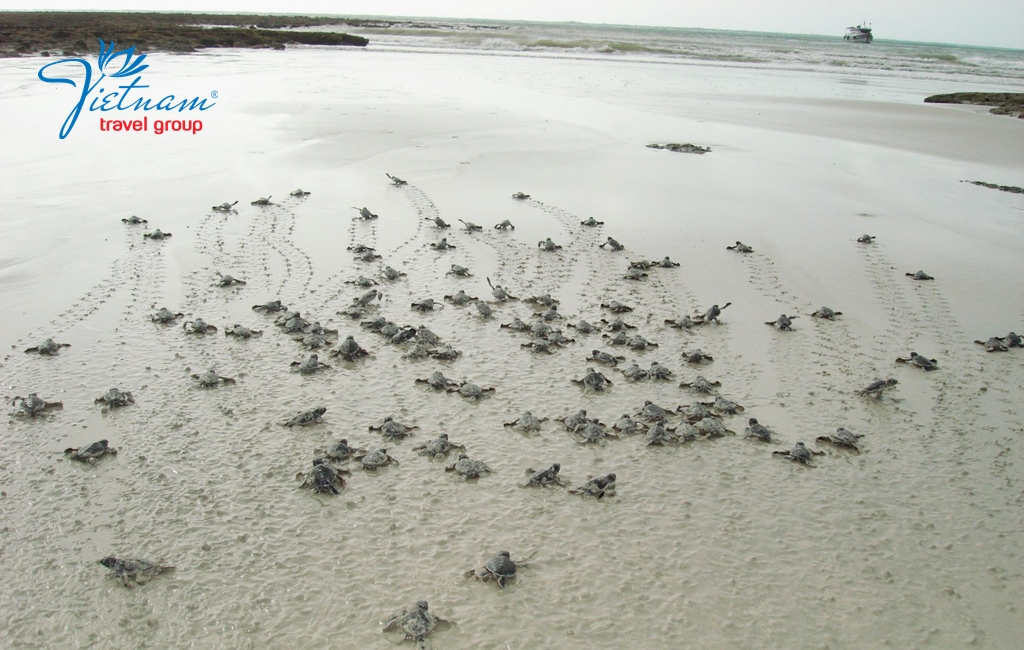 Baby Turtles head to the sea in Con Dao Island - Vietnam Travel Group
Con Dao Island is also considered as one of the most beautiful and peaceful beaches in Vietnam that if you are seeking for your relaxing beach break then it is a place for you.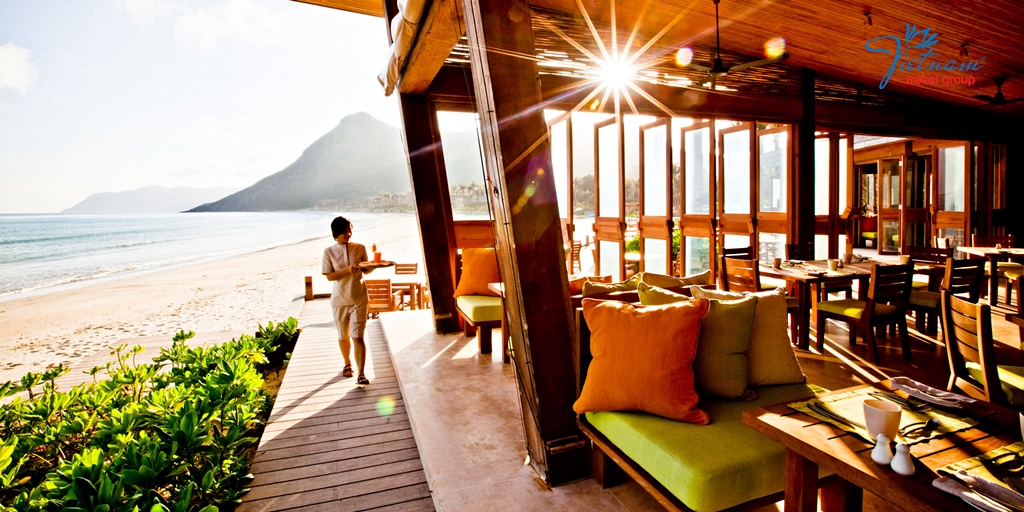 Luxury Beach Break Get-away with Six Senses Con Dao - Vietnam Travel Group
7. July: Mekong Delta- Fruits season
Mekong Delta is known as the 'rice bowl' of Vietnam, the delta is carpeted in a dizzying variety of greens. It's a water world that moves to the rhythms of the mighty Mekong, where boats, houses and markets float upon the innumerable rivers, canals and streams that criss-cross the landscape like arteries.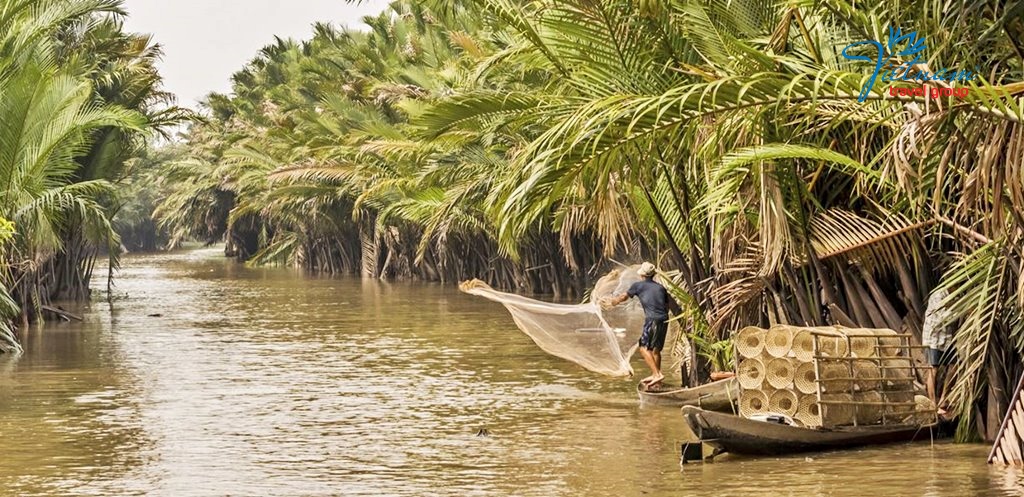 Mekong Delta Fisherman - Vietnam Travel Group
The weather in Mekong Delta is tropical and monsoonal with two seasons: rainy, from May to November; and dry, from December to April. In July, the showers can come suddenly and heavy, but quickly go and leave the sky bright again. This can be considered the most suitable time of the year to visit Mekong Delta as you can get to see the famous Cai Rang floating market and enjoy hand picking fruits from luxuriant gardens. Summer is the blooming season of all kinds of fruits in Southern Vietnam.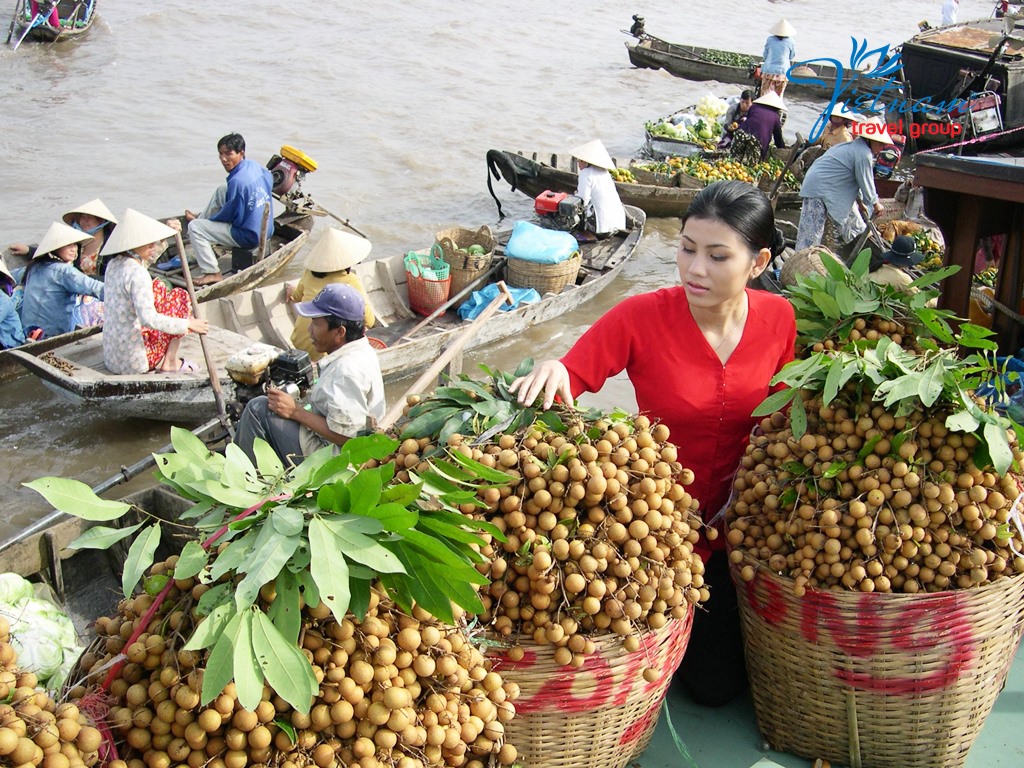 Fruit vendor in Cai Rang Floating Market - Vietnam Travel Group
Cai Rang Floating Market is the second biggest floating market in Mekong Delta Province - Southern part of Vietnam, where all shapes and size of boat vendors will gather to make trade.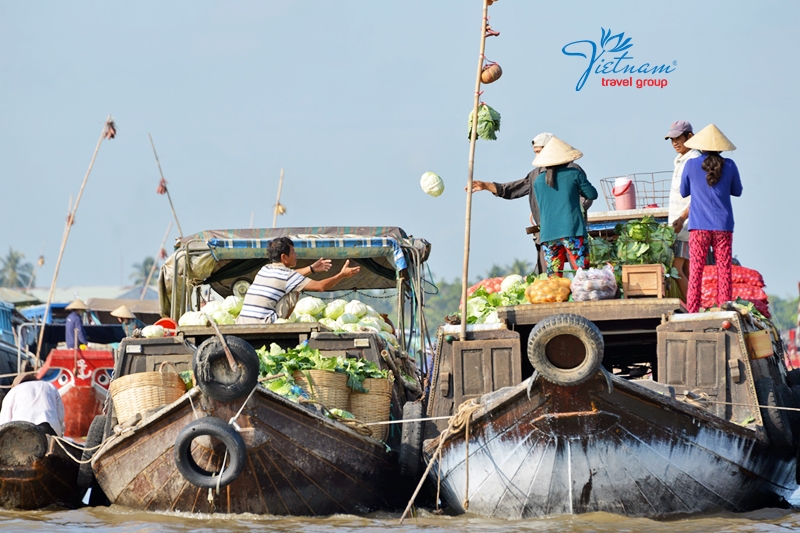 Cai Rang Floating Market - Boat Vendors - Vietnam Travel Group
8. August: Nha Trang – The promising season of the sea
Nha Trang, capital of Khanh Hoa province, is Vietnam's most famous seaside resort-town and its most prominentscuba diving destination. Nha Trang is also known for the best weather in August with beautiful mountains and an amazing, long white sandy beach along a bay impressively dotted with many scenic islands.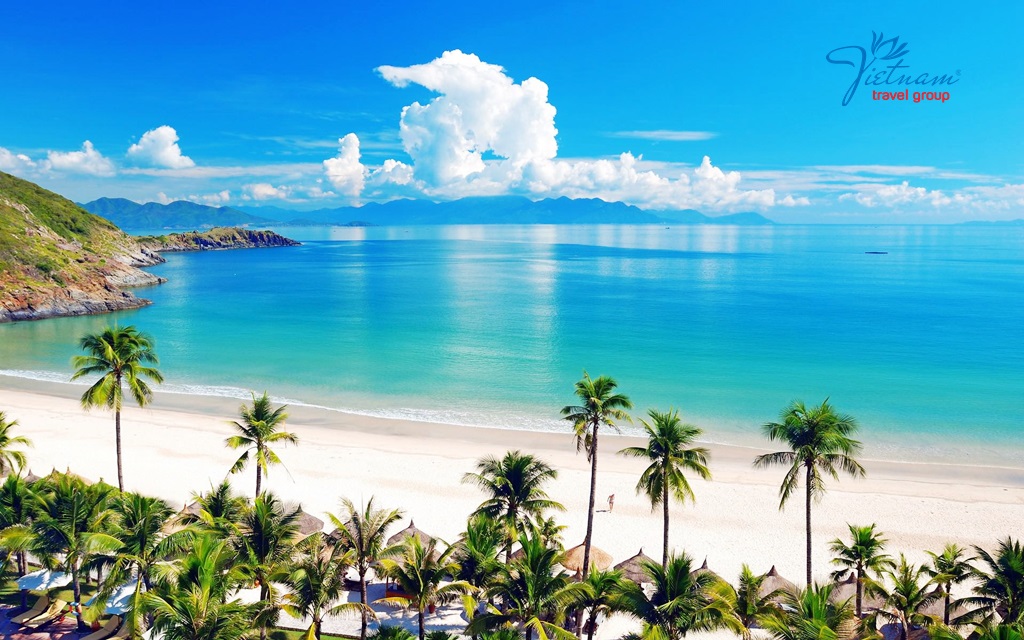 Nha Trang Beach - Central Vietnam - Vietnam Travel Group
It offers plenty to tourists – from island-hopping boat trips, scuba diving and many other water sports, trekking, mudbaths, historic sites to golf.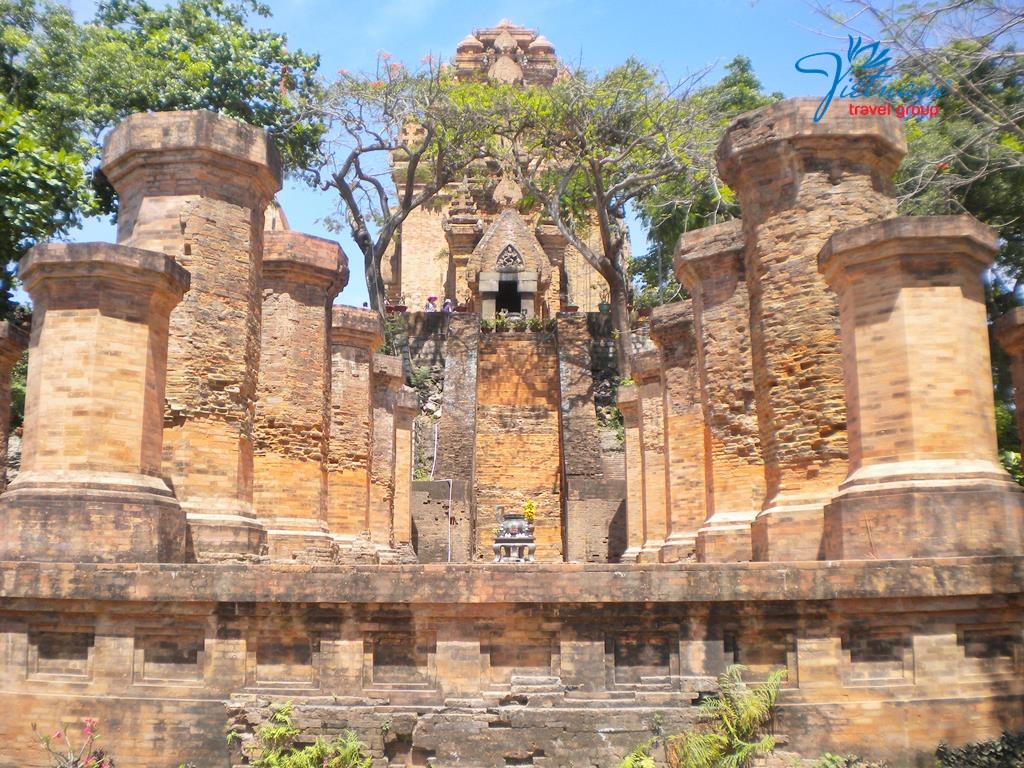 Ponagar - Nha Trang Beach City - Central Vietnam - Vietnam Travel Group
Besides, Nha Trang is famous for its gastronomy such as fresh seafood and barbecued pork rolled in rice paper, the swallow's nest soup.
9. September: Hanoi – "Com" season
Hanoi has always been on top of the bucket list when traveling to Vietnam. However, in September, this can be the highlight of your travel.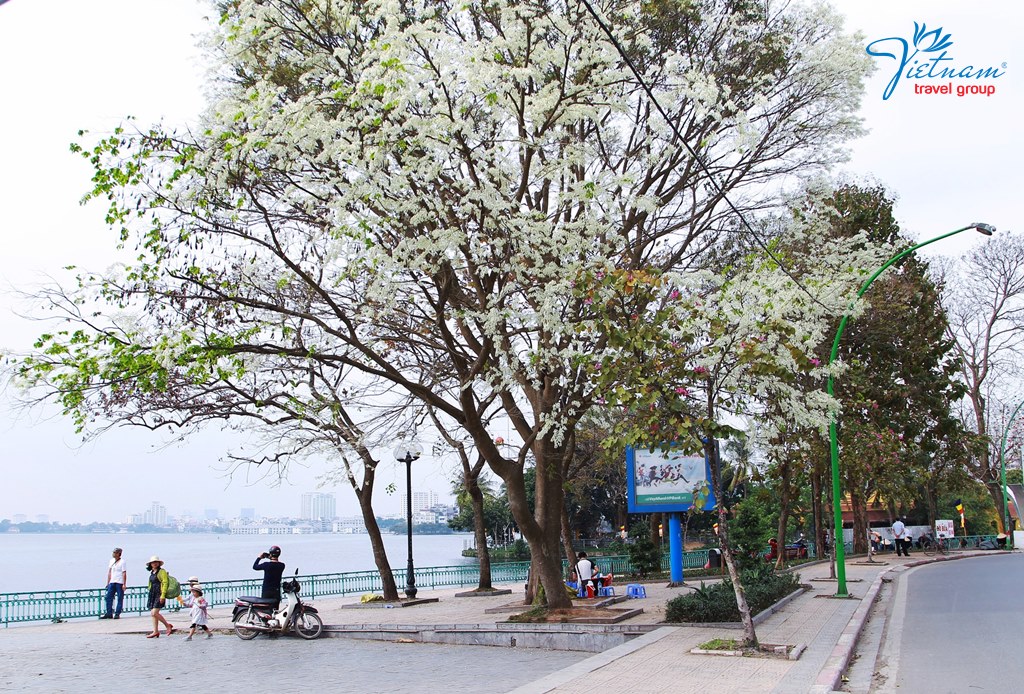 Street in Hanoi with alstonia flower blooming - Vietnam Travel Group
Visiting Hanoi by the beginning of September, tourists not only can enjoy the scent of alstonia (a very typical flower for fall in Hanoi) but also can have a chance to try "com", one of the most favorite gifts during this season. "Com" is green rice flakes or grilled rice made from unripe sticky rice. Though "com" can be found in many places even vendors in Hanoi, Vong village is still famous for the legend and tradition of "com" making.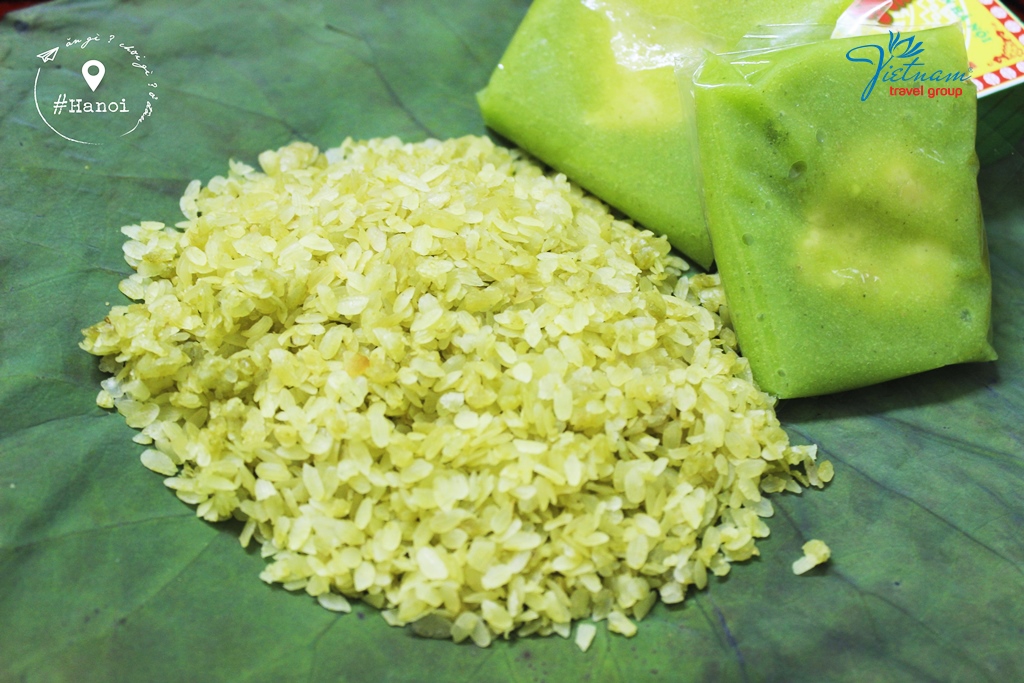 Cốm - La Vong - Hanoi - Vietnam Travel Group
10. October: Phu Quoc – Sunshine paradise
Located in the southern province of Kien Giang, Phu Quoc Island is a large tropical island off the coast of Vietnam.
Sunset in Phu Quoc - Vietnam - Vietnam Travel Group
Attracting millions of tourists all year around, October is the most suitable month to visit this gem island as in this time of the year, Phu Quoc receives the most suitable and comfortable amount of sunshine. For those who love the white sandy beaches with long green rows of coconut trees, this place is a must-visit.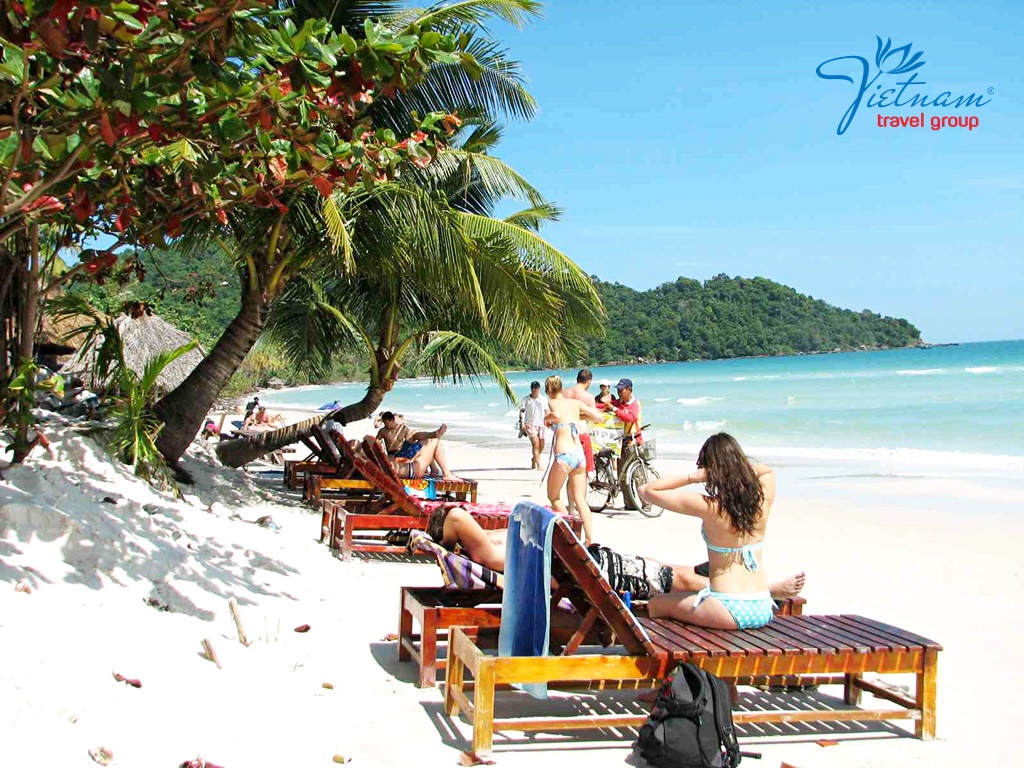 Bai Sao Beach - Phu Quoc Island - Vietnam Travel Group
There's nothing more wonderful than enjoying various water activities or simply chilling in the sun in such nice weather!
11. November: Ha Giang – Land of buckwheat flowers
In Ha Giang, these pink and white flowers paint such a serene picture of the mountainside – simple yet so beautiful. Modest but charming, buckwheat is harmonious with the green color of the forest and the grey color of the mountains which altogether creates an endless source of inspiration for art enthusiasts. But the most profound and beautiful feature of the flower is its meaning – slender in shape but full of energy and beauty, always overcoming the fierce challenges of nature.
Every year, in November, a buckwheat flower festival, which features art performances and displays of buckwheat flower products (such as bouquets, cakes and other dishes, paintings and art, etc.) is held in order to celebrate the blossoming of these iconic flowers in Dong Van District in Ha Giang Province. This annual festival has been bewitching flower lovers, couples as well as photography enthusiasts year after year.
12. December: Sapa – Winter festival
Sapa has always been an attractive destination to any traveler to Vietnam. Especially in winter, when the temperature can reach under zero degree, it's amazing time to climb the Mount Fansipan, "the Roof of Indochina".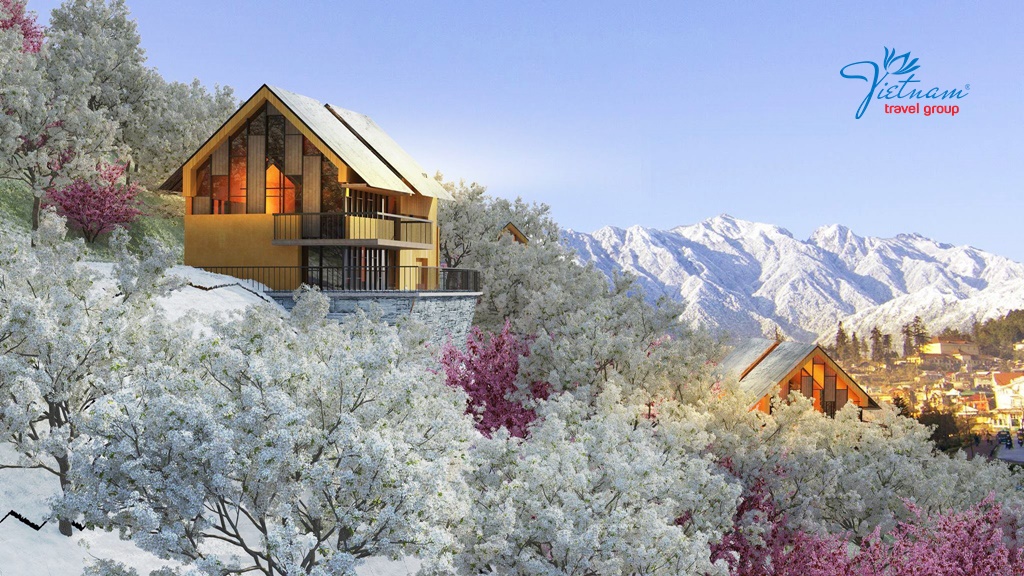 Sapa in winter - Northern Vietnam - Vietnam Travel Group
Accordingly, many attractive activities will take place in the framework of Sa Pa Winter Festival annually, such as traditional music and dance performances; folk games; recreation of traditional wedding of Red Dao ethnic people; photo exhibition on Sa Pa's snow; display of traditional ethnic costumes, local agricultural products and cuisine; especially, artificial snow space and reindeer sleigh ride model, etc. Sa Pa Winter Festival, which were held since 2016, aims to create new tourism product as well as bring the opportunity for visitors to experience Sa Pa's winter. The festival also contributes to introducing and promoting the tourism potentials and strengths, the beauty of people and culture of Sa Pa and also Lao Cai Province to numerous domestic and international visitors.
In conclusion, Vietnam is truly amazing country that you should be visiting in 2019. Don't hesitate to contact Vietnam Travel Group to plan for your travel today! We specialize in customize or private tours. We also organize daily tour across Vietnam: Cu Chi Tunnels, Mekong Delta, Ha Long Bay Cruise, Lan Ha Bay Cruise, Sapa etc... VIP tours are also available with limousine transportation. All you need to do is to let us know the places on your wish list and we will sort it out for you.
Vietnam Travel Group's Team