06 May, 2019 VNTG
Perfume Pagoda – also known as Huong Pagoda in Vietnamese, is a famous destination for tourists from everywhere. Join a magnificent day from Hanoi to this outstanding place with Vietnam Travel Group for the unforgettable experience!
Why should you join a Perfume Pagoda tour, Vietnam?
The Huong Pagoda is located in Huong Son commune, My Duc district, Hanoi. The Huong Pagoda is a vast complex of Buddhist temples and shrines built into the limestone Huong Tich mountains. It is the site of a religious festival which draws large numbers of pilgrims from across Vietnam… About 60 kilometers southwest of Hanoi lies this striking complex of pagodas and Buddhist shrines built into the karst cliffs of Huong Tich Mountain (Mountain of the Fragrant Traces).
This is one of the most attractive spiritual tourist destinations in the North of Vietnam, especially in the early spring of the new year. The Huong Pagoda Festival, which takes place from January to March of the lunar month, attracts many Buddhists and domestic and international tourists.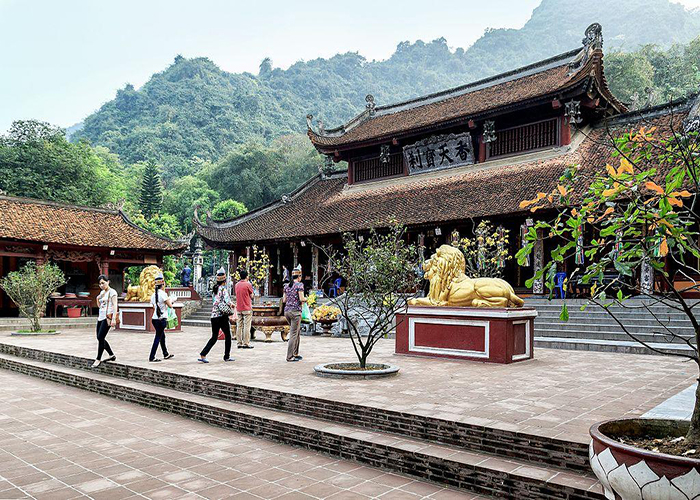 The old beauty of the Huong pagoda
A special point of this place is the means of transportation. Coming to Huong Pagoda, you will have to take a boat in Suoi Yen valley, or walk or use the cable car. When you reach Huong Pagoda, you can climb the mountain to freely admire the scenery and if your strength does not allow it, this place has a cable car system that is safe and convenient for you to move.
In the Huong Pagoda area, Yen stream is considered one of the places for the most wonderful experience. The length of the Yen stream is about 65 kilometers. To fully enjoy the beauty of this stream, come to this place in the fall. At that time, the sky is clear, the water is cool, and the gentle purple color of thousands of water lily flowers spread all the way. The two sides of the road are natural landscapes with the view of trees changing leaves, steady and gentle, all will surely make you fascinated with the landscape here.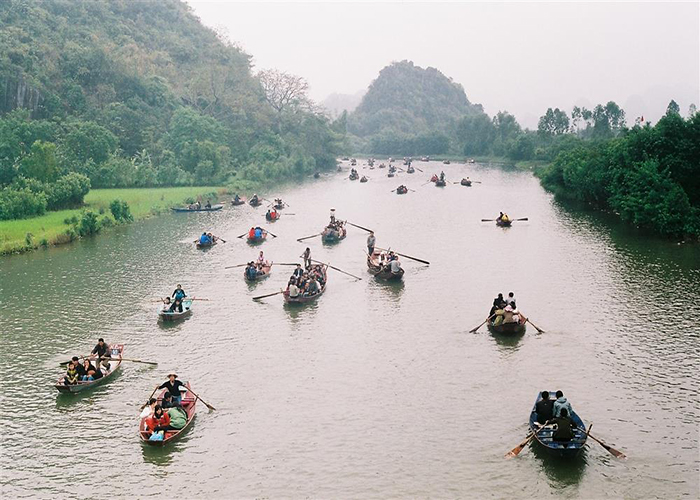 The peaceful Yen stream in Huong Pagoda
The Perfume Pagoda – which is the main attraction, is a sprawling landscape in the Yen stream valley. There are also Trinh temple, Thien Tru pagoda and Huong Tich cave are considered the 3 most beautiful and sacred destinations that you should visit. Besides that, the area of Perfume Pagoda also consists of many other amazing wonders. It's no coincidence that a travel tour to Perfume Pagoda is getting more and more popular.
When traveling to Huong pagoda, there are many specialties for you to enjoy. Here you can eat lettuce cake, or dishes made from lettuce, this is the vegetable in Huong Son area that other places do not have. In addition, in the summer there is also a forest apricot fruit, which is quite crispy and sweet.
The amazing and exciting Huong festival, Huong Pagoda
Besides, when you come to the temple, vegetarian food is recommended, but if you want to you can enjoy the dishes made from mountain goats, cows, horses and porcupines,...
Which such amazing sceneries and cuisine, why don't you join Vietnam Travel Group for a memorable day in Perfume Pagoda right now?
Your schedule in Perfume Pagoda, Vietnam
Around 7:00 AM to 8:30 AM our guide and driver of Vietnam Travel Group will pick you up at your hotel in Hanoi Old Quarter, then take you to the 2 hours road trip to Perfume Pagoda.
Once reach the pagoda, you take row-boat trip to go visit that land on the Yen stream "romantic time" about 1 hour to Thien Tru harbor. Then you will enjoy time to trekking go up and down visit the main cave so nice step by step you will arrive Huong Tich cave on the top of the mountain. To see Golden-Silver tree rice stuck….One hour down. Lunch at the local restaurant at the bottom of the mountain.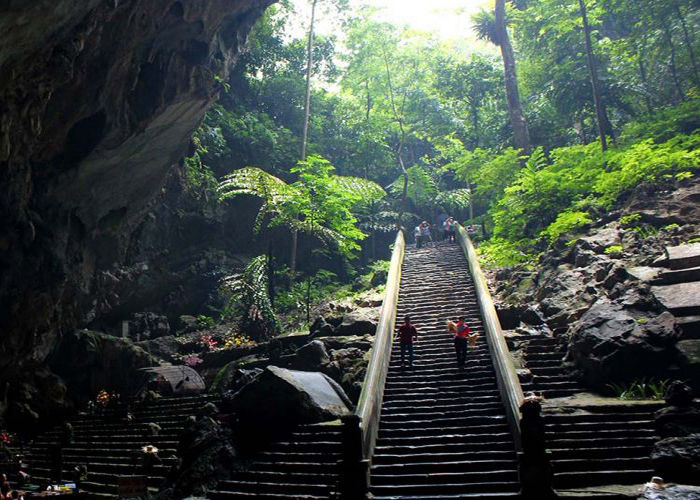 One amazing wonder in Perfume Pagoda, Vietnam
After lunchtime, you will see the Heaven Kitchen pagoda and know about Buddhism ancient architectural at Le Dynasty. After that, you will come back by rowboat-trip and the 2-hour road trip to Hanoi and arrive at about 6:00 PM.
Your tour ends. Finish the trip in Perfume Pagoda (Hanoi Capital) or extend your trip to Ha Long Bay. Goodbye and see you again!
Are you ready for an amazing journey in Huong Pagoda, Vietnam? Don't be hesitate to book a tour with us right now. If you are looking for more detailed information, please visit vietnamtravelgroup.com or contact Vietnam Travel Group for more advisories.
Vietnam Travel Group is thrilled to be able to serve you in Huong Pagoda, Vietnam. We wish you a good day and a wonderful vacation in our S-shaped country.
vietnamtravelgroup.com