18 May, 2019 VNTG
Cycling tour has always been trusted and chosen by international visitors when traveling in Vietnam. Don't miss out this cool Cho Gao – Ben Tre - My Tho from Vietnam Travel Group to have the most amazing experiences in our S-shaped country.
The first destination – Cho Gao
Cho Gao is actually a district located to the east of Tien Giang Province and about 14 kilometers from My Tho City. Although there are not so many famous tourist attractions like other localities, in exchange, when traveling in Cho Gao, visitors will enjoy the delicious cuisine dishes that are rarely available anywhere else.
Anyone who has ever set foot in Cho Gao, a destination located 1200 kilometers north of the capital of Hanoi, cannot deny that this country possesses an unattractive appeal. From Cho Gao, you can move East to Bai Sau just 70 kilometers away to set foot on Long Hai Beach which is 85 kilometers away to enjoy the cool waves of the sea.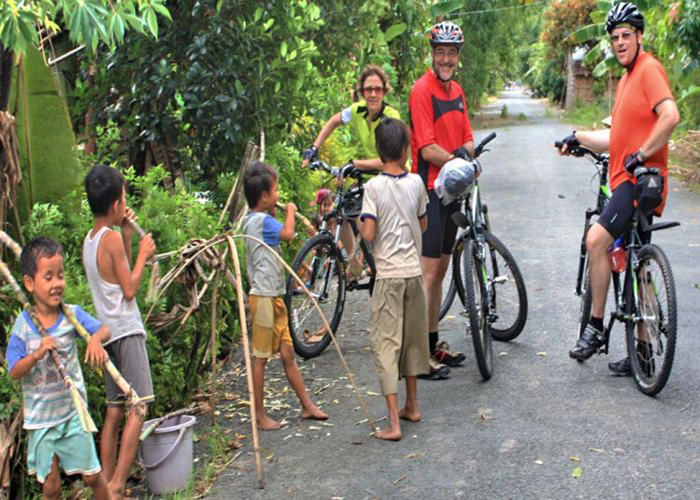 Tourists chatting with local children in Cho Gao
Cho Gao is also a land of many famous tourist spots such as Vinh Trang Pagoda and Vinh Long Cathedral, about 14 kilometers from Cho Gao which is very suitable for you to have a complete and comfortable vacation. Any holiday must end but the quiet moments and beautiful scenery of Cho Gao will forever be with you.
Cho Gao is not the only land with countless attractions but also extremely convenient for tourists because Tan Son Nhat International Airport is located just about 55 kilometers north of the place.
My Tho – the wonderful destination of the cycling tour
With the beauty of the West River, My Tho is currently the place that attracts the most visitors to visit. Coming to this peaceful, gentle land, travelers will feel peaceful and warm all over inside.
My Tho is a dynamic young city located on the banks of the poetic Tien river in Tien Giang province. You can visit My Tho at any time of the year because the atmosphere in this city is always fresh, each season has its own interesting point and very characteristic factor for you to explore and find.
An overview of the peaceful My Tho City
Referring to the specialties of My Tho, you cannot ignore the famous hu tiu. A number of delicious shops you can refer to. Snake porridge is also a specialty you can't help but enjoy if you come to My Tho.
Ben Tre is also an amazing place to cycle
Ben Tre is like a beautiful island among the four rivers of the Cuu Long River, which becomes an attractive tourist destination for those who like to explore the green space. Ben Tre has many famous attractions such as Tan Quy alcoholic, Phung wine, Vam Ho bird sanctuary, fruit garden tourism.
Ben Tre is a province in the Mekong Delta, known as the hometown of Dong Khoi Revolution and also a land of coconut. Ben Tre is located at the end of the Mekong River, so Ben Tre has many canals and vast coconut palms. Tourists love to go to Ben Tre to participate in ecotourism activities, staying at home with local people, enjoying the fresh air.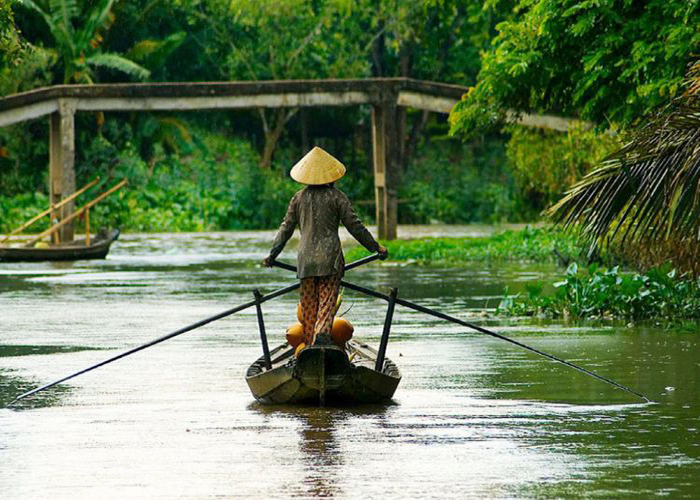 If you want to relax, Ben Tre is the perfect choice
The area of Ben Tre Province is not large, so it only takes 1 day or 2 days to visit all the tourist spots in the province. Normally, you should always combine Tien Giang and Ben Tre tourism. Cycle through these places will be very interesting.
Where will you cycle through in these 3 places?
At 7.00 am, you are picked up at your hotel by our guide and driver from Vietnam Travel Group and then transferred to My Tho. From there, you will visit the village market on Cho Gao's land and enjoy the countryside's cakes.
After that, you will depart to the village roads to the vast rice fields of Cho Gao, gardens, flower garden along the My Tho City's outskirts. You can visit the rice mill, vermicelli oven where noodles - a specialty of My Tho – are made. Then you visit Vinh Trang Pagoda, the largest pagoda of Tien Giang, built in 1849 with over 60 Buddha statues of high artistic value. After the trip, you go to My Tho Pier. Then get on a boat to depart to Ben Tre -The land of coconut.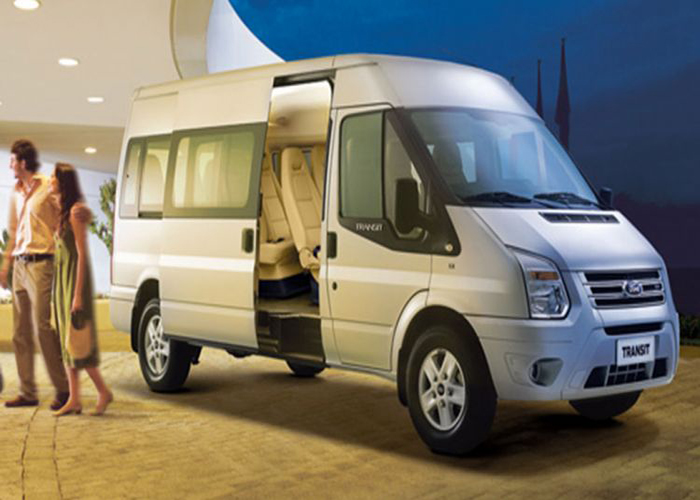 Tourists being picked up by Vietnam Travel Group
After lunch, you visit Que Dua – a traditional coconut candy's workshop, then a boat trip to Thoi Son Island. Here you will visit honey bee's garden where feeding honey bee traditionally for hundreds of years in this Island.
You can also rowboat to small canals. Arrive at local farmer's house, enjoy fruits, and listen to traditional folk song music… At last, you go back to My Tho by boat, ready to be picked up and transfer back to Saigon. Return to the city around 5.30pm.
Excited for a cycling day in our beautiful and magnificent Cho Gao, Ben Tre and My Tho? Then don't hesitate to contact Vietnam Travel Group and book a tour for yourself right away! This amazing adventure will surely not let you down.
Vietnam Travel Group is thrilled to be able to serve you in Vietnam. Are you ready to explore with us?
vietnamtravelgroup.com