05 April, 2023 Vietnam Travel Group
The event will be organized at the Vietnam National Village for Ethnic Culture and Tourism in the outskirts of Hanoi's Son Tay district.
A lot of activities on the theme of "Colors of the Cultures of Vietnamese Ethnic Groups" will be organized until May 3.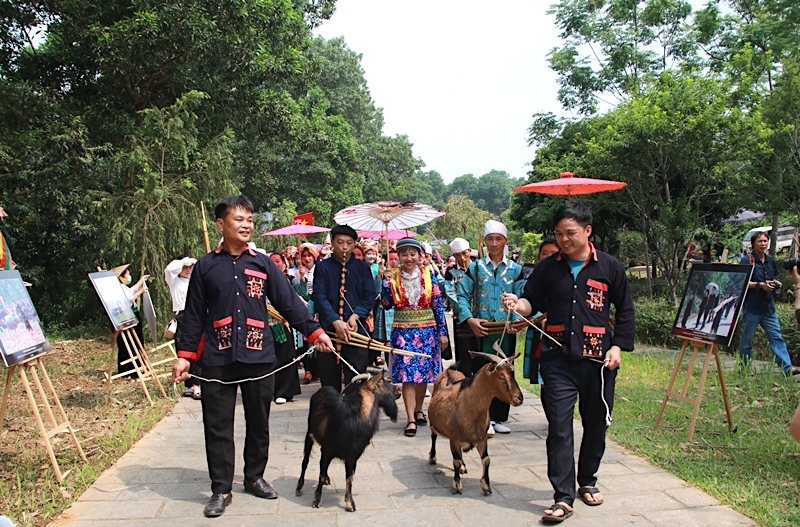 The event is part of activities to celebrate Vietnam's Ethnic Groups Cultural Day (April 19), which honors the cultural values of ethnic groups and the country's cultural diversity.
Visitors can experience the cultural spaces of ethnic groups in the northwest and northeast regions, play folk games, and enjoy art performances by the Mong ethnic people from Son La's Moc Chau District, which was recognized as a national intangible cultural heritage in 2018.
The native cuisine and goods of the Mong, Dao, Thai, Muong, Kho Mu, and Tay ethnic groups are also available to visitors. The event will also feature cultural activities to showcase tourist destinations from other provinces and cities. At the event, the northern province of Thai Nguyen will present Then singing and Tay folk dances like dan tinh (gourd lute).
Visitors can also indulge in regional specialties like five-color sticky rice, Lam rice (rice in bamboo tubes), Gio cake (rice cake with plant ash), and a recipe for banana cake. The Tay Nguyen (Central Highlands) province of Dak Nong will also showcase the distinctive cultural traits of the Mnong ethnic group, including a recreation of the Mnong wedding ritual, dishes from the Mnong cuisine, folk dance performances, and displays of traditional crafts.
The K'tu ethnic group from the central province of Thua Thien Hue will organize a ceremony to plant a Neu tree (a tall bamboo pole with offerings and objects to pray for good fortune and eliminate evil) and present a program called "Central Highlands' Love Songs" that features a variety of acts from the Central Highlands' ethnic minorities. While preserving and promoting distinctive traditional cultural values, the initiatives are expected to strengthen cross-ethnic cultural interactions.
According to vietexplorer