26 April, 2019 VNTG
Mui Ne is an isolated stretch of beach where pioneering travelers camped on the sand. The 3 days amazing adventure in this mesmerizing beach of Vietnam Travel Group shall give you the best memories in your life.
Basic information about Mui Ne beach
Mui Ne was an isolated stretch of beach where pioneering travelers camped on the sand. Times have changed and it's now a string of beach resorts, which have fused into one long coastal strip. These resorts are, for the most part, mercifully low-rise and set amid pretty gardens by the sea. Oddly enough, what most people call Mui Ne is not Mui Ne, it's Ham Tien. Mui Ne Vietnam is a small fishing village about 8 kilometers away from the popular resort area of Ham Tien, the place people are referring to when they say Mui Ne.
Mui Ne features are immense sand dunes meandering through kilometers of red, yellow and white, shady roads under coconut trees, beautiful rows of palm trees and cliffs battered by the waves of the sea. It is located in Ham Tien Ward, Phan Thiet City, Binh Thuan Province, 22 kilometers from the center of Phan Thiet City and about 220 kilometers from Ho Chi Minh City. Mui Ne beach is known for its dramatic mix of red and white sand dunes spanning dozens of kilometers in length.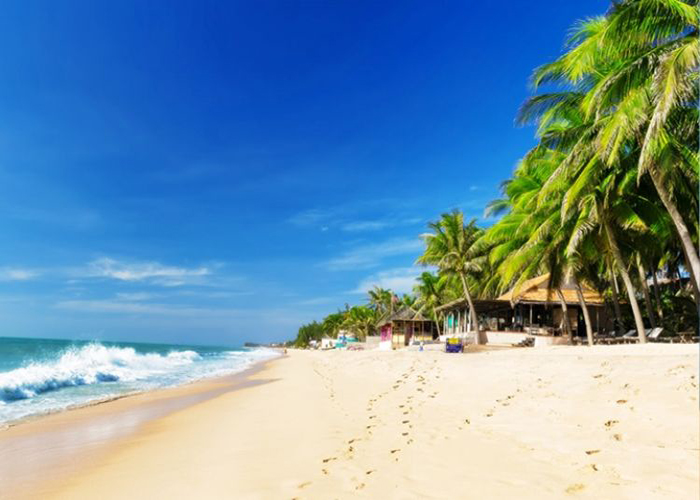 The irresistible beauty of Mui Ne beach
What is so beautiful in this place is the beach. The beach is shallow and sloped, the water is clean and blue and the sun rarely hides behind clouds. The typical scenery of Mui Ne lies in the moving lines of golden sand caused by the wind and when they are seen from afar they look like moving waves. The scenery looks more fascinating at dawn when young Cham girls in green dresses go to work. That's why no photographer fails to visit this area.
Visitors can come to Mui Ne at any time of the year, each season the "paradise of the sea" brings a different beauty. From April to August is the most beautiful time in Mui Ne, at this time the sea is clear and cool. From August to December will be suitable for surfing enthusiasts and adventurous sports. If you want to explore the place yourself, don't be hesitate to contact Vietnam Travel Group for an amazing Mui Ne beach tour.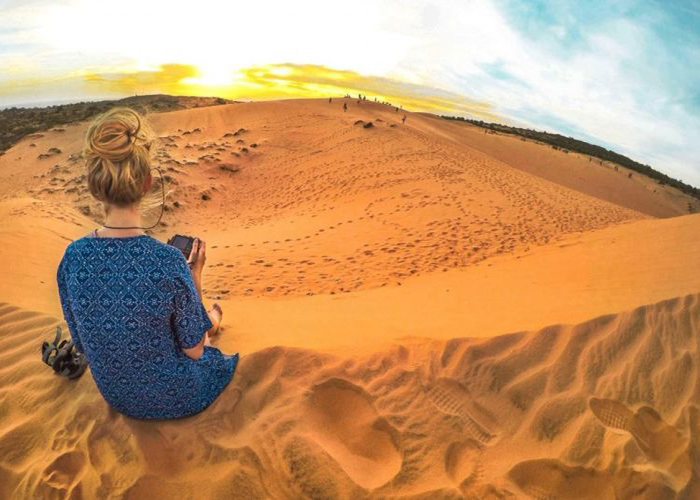 The giant and wonderful sand dunes in Mui Be
Day 1: Arriving in Mui Ne beach
In the first day of this Mui Ne travel tour, you will begin your journey by starting to move from Ho Chi Minh City. At 08.00 AM, the friendly English-speaking tour guide from Vietnam Travel Group will pick you up at your hotel and depart for Mui Ne on modern and comfortable transportation, where is about 200 kilometers from Ho Chi Minh City.
On your way to Mui Ne beach, you will experience the magnificent view changing from the bustling city to the peaceful and refreshing countryside. You can get a wonderful overview of the local people daily activities in different places in Vietnam, such as growing crops, feeding animals or selling and exchanging self-made products and goods. You will have the chance to feel an outstanding change between the big city and the countryside.
This is the beautiful and sunny road you will use to go to Mui Ne beach
Upon arrival at Mui Ne, you will be transferred to a resort for check-in. You will take a break for lunch and have time to relax at the resort. The rest of the day you can freely do anything you want, before spending the night in Mui Ne beach.
Day 2: Mui Ne Sunrise tour
In order to fully explore the splendid beach of Mui Ne, from 4:30 AM, our English-speaking tour guide will pick you up from the hotel and bring you to visit Mui Ne beach – one of the outstanding tourism wonders in this breathtaking area. You will see the white and yellow sand waves that were created by the wind on the vast sand dunes. You won't regret paying this place a visit.
In the middle of the white sand dune, there is Lotus Lake. Besides visiting white sand dune, you will have a chance to visit yellow sand dune. From the top of the yellow sand dune, you can see the scenery of Mui Ne and have a nice chance to discover the daily activities of the fishing farm. In the fishing farm, you will have the chance to study the daily life of local people as well as their normal work of feeding and catching fishes, to sell and earn money from them.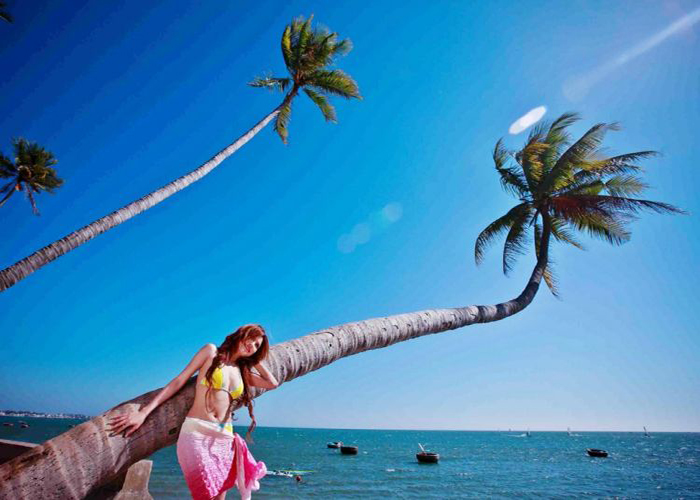 The mesmerizing ocean and blue sky in Mui Ne beach
Next, to that, we will stop at the Fairy Stream, where you cannot miss in Mui Ne because of its beauty. Fairy Mui Ne Stream is the favorite tourist destination for many tourists not only in the country but also abroad. With white, red and orange color, these are the dominant colors making Fairy Stream become unique and mysterious. Not clear, tattered, Fairy Stream in Mui Ne impresses people by the beautiful red-orange water.
The water in Fairy Stream only reaches the ankles of tourists so visitors can freely wander in the streams with the cool water, from which visitors like to forget the intense heat of Phan Thiet. That's the end for your second day of Mui Ne beach tour.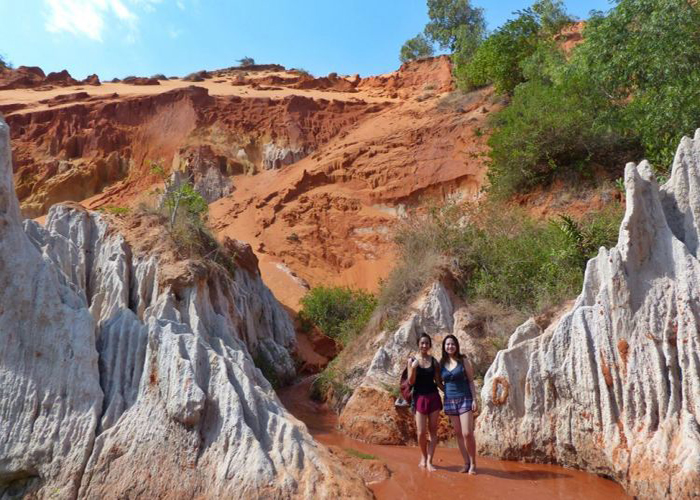 The unbelievable red Fairy Stream
Day 3: From Mui Ne beach, return to Ho Chi Minh City
There are no activities planned for your final day. After breakfast at the hotel, you have free time for swimming or relaxing on the beach at the resort. This is the perfect time to fully enjoy the breathtaking beach of Mui Ne before going back home.
If you are ready for an amazing journey in Mui Ne beach, Vietnam, please book a tour with Vietnam Travel Group for a wonderful summer vacation. If you are looking for more detailed information, please visit vietnamtravelgroup.com or contact Vietnam Travel Group for more advisories.
We wish you a good day and a wonderful vacation in our S-shaped country.
vietnamtravelgroup.com