14 May, 2019 VNTG
Not only famous for the mesmerizing beaches, but Nha Trang also attracts visitors due to its outstanding natural wonders. In just 1 day with Vietnam Travel Group, you will be able to discover all of those amazing places. Why don't you join us right now?
An overview of Nha Trang City, Vietnam
Nha Trang is a coastal city and is the political, economic, cultural, scientific, technical and tourism center of Khanh Hoa Province, Vietnam. Also recognized as one of the most beautiful ocean areas in the world with a quiet city on the coast, Nha Trang has been the most famous tourism city in Vietnam in recent years.
Nha Trang has been classified into one of the most beautiful ocean bays in the world with an area of 507 kilometers square, consists of 19 islands large and small. Nha Trang City is quite full of elements of mountains, rivers, lagoons, islands, fields, villages... creating a rich and unique value. Nha Trang has biodiversity, has most of the typical ecosystems of tropical waters. It seems that nature is too preferential for this beautiful sea.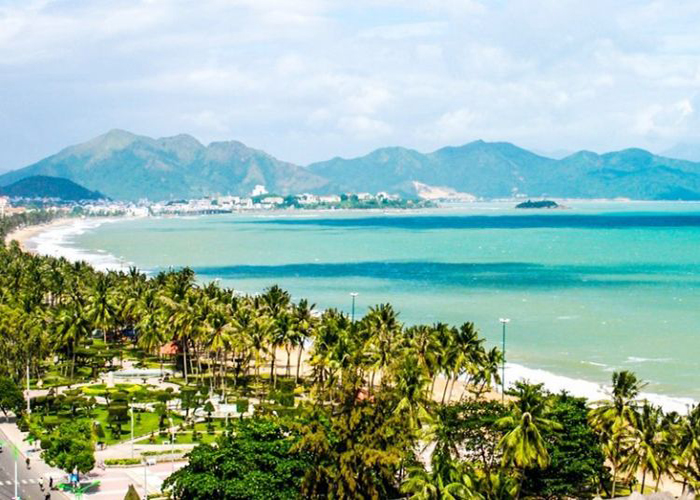 An overview of Nha Trang City, Vietnam
Not only known for its beautiful landscapes, but Nha Trang tourism is also famous for its rich cuisine. Because it is a coastal area, Nha Trang seafood is diverse with many types and countless different famous dishes made from seafood such as fish, crab, squid, shrimp... Is that enough for you to be curious about the interesting Nha Trang tour?
Apart from being known for the beauty of blue beaches, you can also come to many historical sites in Nha Trang which are very attractive and magnanimous. This is why you really should join Vietnam Travel Group's 1 day Nha Trang tour. You will have the chance to discover all of those amazing places.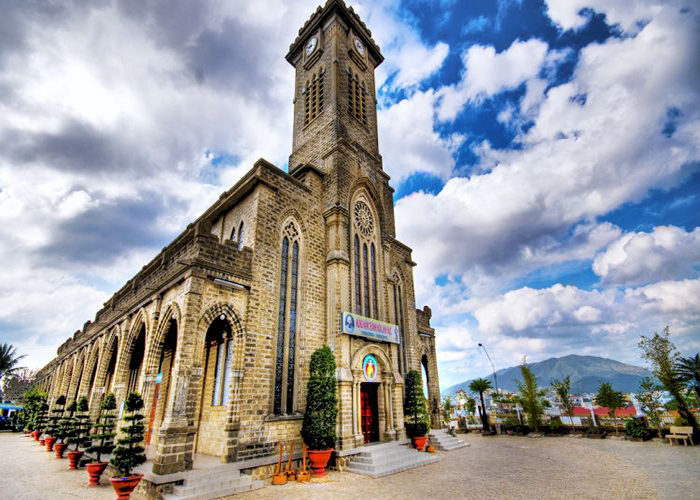 Nha Trang has much cultural heritage that you really should visit
Schedule to discover the cultural value of Nha Trang, Vietnam
In the morning, at 08.00 AM, an English-speaking guide from Vietnam Travel Group will come and pick you up at the hotel in Nha Trang for a cultural heritage tour.
You will visit the institute of Oceanography, which was founded in 1922, this institute has contributed significantly to the exploitation and conservation of the East Sea. Its collection of about 20.000 specimens and living creatures is the biggest one in South-East Asia.
Next, you can visit the Nha Trang Cathedral, which is also known as Stone Church. Built between 1928 and 1933, this church is considered as the seat of Catholic Diocese of Khanh Hoa province.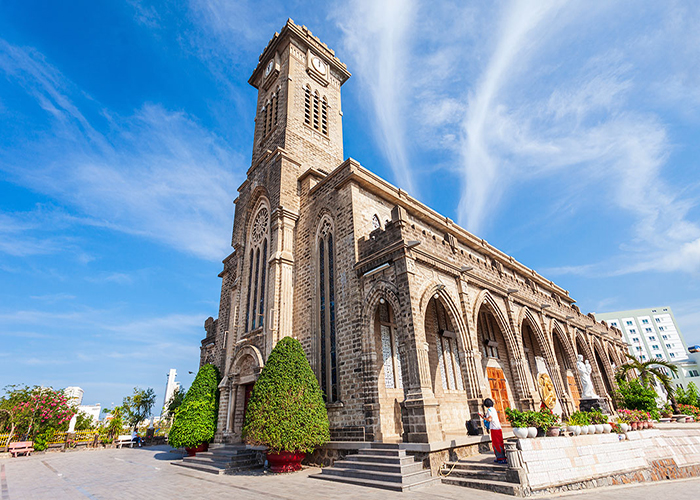 The amazing Nha Trang Cathedral
Then, you'll have a break at Chong Promontory. This Promontory looks like the work of a giant who has put several massive rocks together.
After lunch, you visit Xom Bong Bridge, located at the northern end of the city, the Xom Bong Bridge provides access to the Po Nagar Cham Towers and is one of Nha Trang's more noteworthy pieces of engineering. From the bridge, you can peer down and get some good views of the local fishing operations.
Then you can visit Po Nagar Cham Towers. Po Nagar Cham Towers were built by Cham civilization between the 7th and 12th century to honor the Mother of Cham Kingdom. Nowadays, this site is a famous pilgrimage place for local people.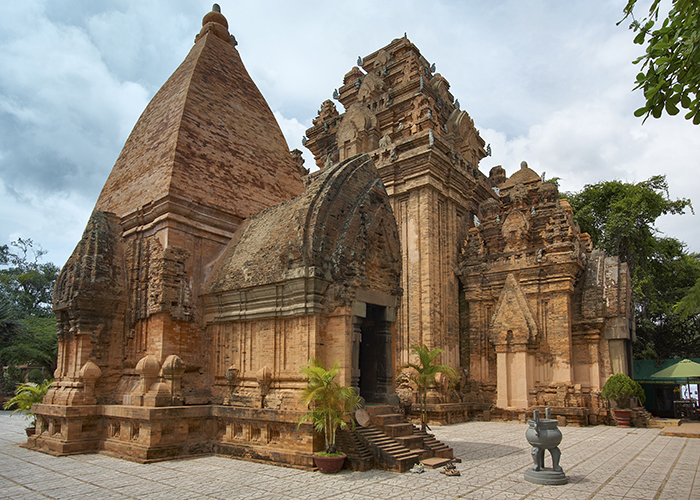 The beautiful Po Nagar Cham Tower in Nha Trang
Long Son Pagoda is the next destination. From the Long Son Pagoda, there is a large road leading up to Hai Duc Pagoda along the crest of the hill, where there is a large white concrete statue of Gautama Buddha. The statue was built on the site of the original temple and the statue was cast in 1964 before being installed the following year, under the auspices of Thích Đức Minh, who was the Head of the Buddhist Association of Khánh Hòa Province. From the ground up, the statues are 24 meters, and from the base of the statue, it is 21 m. The figure of the Buddha is 14 m while the lotus blossom comprises 7 m. Around the statue are statues of seven arahants
You can also shopping at Dam Market - the famous center trade of Nha Trang. It is a popular destination for tourists. After a tour, we transfer you back to the hotel. The rest of the day is free at your own leisure Nha Trang Cultural Heritage Tour.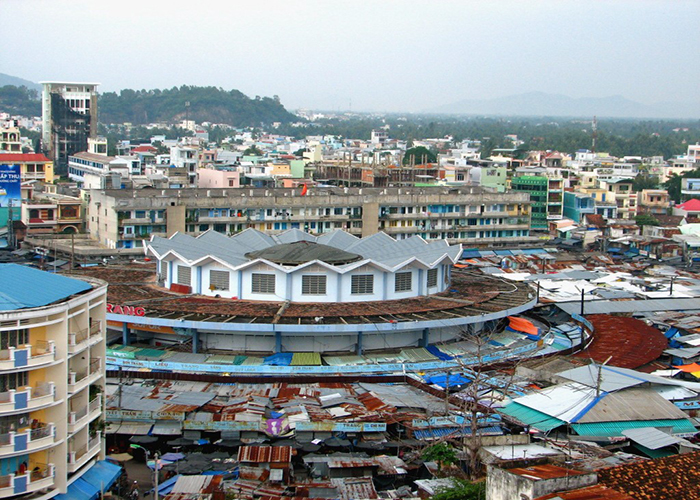 An overview of the Dam market from above
Book your 1 day Nha Trang tour to discover the culture value right now!
Excited for a culture trip in Nha Trang, the most beautiful city in Vietnam? Then don't be hesitate to book a tour with Vietnam Travel Group right now! We are thrilled to have the chance to serve you, so don't wait anymore, contact us right away!
We wish you a memorable vacation in our beautiful country Vietnam.
vietnamtravelgroup.com